Services of Global Plan Inc.


(1)Developing & Standardizing Ultimately Affordable Broadband Backhaul Solutions
→ see more
(2)Getting standardization agreements at ITU, IEC and ISO
→see mor
(3)Improving business competitiveness through "Joy-of-Work" Round Table Activities
(Joy of Work Seminar)→see more
仕事の進め方・働き方のイノベーション支援
(4) Building Your Capacity for Global Activities
国際人材の育成支援 国際標準化、国際競争力の強化など
→HP Students Comments(学生さんの感想ご覧下さい)
(大学・学生さん向け講演料は不要: okamura@globalplan.jpまで



NEWS

June 14, 2019,
President of GP Inc. presented "Broadband Solution & Standards for Connecting the Unconnected" as a guest speaker at ASTAP 31, Tokyo.


May 25, 2019,
The
Inaugulation Ceremony
of the ITU-Standard Broadband Optical Cable solution was held in Dullu Municipality office,
Dailekh District of Karnali Pradesh in West Nepal
. This
is the 1st implementation of the broadband rural connectivity by meeting ITU-T standards; L.1700, L.110 and L.163 were officially edited by .
Okamura. He stated in the ceremony "lets make Dullu municipality globally recognized as the birthplace of the broadband rural connectivity, as Lumbini is as the birthlace of Buddha". This PJ was conducted as the APT Category II Project funded by extra budgetary cotribution from Japan.

ネパール西部ダル地区の光ファイバ12kmの建設が完了、地区政府への引渡し式典(下の写真)が行われました。途上国の情報格差解消のための光ケーブルソリューションの必要条件を記述した3本のITU-T 勧告(L.1700, L.110 L.163)に準拠したソリューションの最初の現場投入となりました。 



As of May 7, 2019,
ITU-T Recommendation L.163 (Criteria for optical cable installation with minimal existing infrastructure, edited by H. Okamura ) is identified as "most popular" Recommendation
.

April 7-11, 2019,
Global Plan exhibited @
WSIS Forum 2019
the Proposed Optical Cable Solution for Closing the Digital Divide. See
Haruo Okamura interview video

March 29, 2019
Opical Cable was installed across unexplored wild land at Dullu Municipality, west Nepal. This is the 1st DIY deployment of Optical Cable on the ground's surface in a most-affordable manner meeting ITU-T Recommendations L.110 and L.163 by the local communit;: right end is H. Okamura.
<![if !vml]>

<![endif]>
Jan.11, 2019, ITU published an ITU NEWS on the completion of developing a set of ITU stadards identifying low-cost optical broadband solution that GP Inc. has proposed.

Nov. 29, 2018, development of a set of ITU Standards, proposed and Edited by the President of GP Inc., unprecedentedly targeting to closing the urban-rural digital divide concluded that fundamentally supports the UN SDGs .


2018年11月29日 途上国の都市部と遠隔地の情報格差の解消を目的とした以下の一連のITU勧告の最後の1件(L.163)が承認されました。遠隔地のブロードバンド化の加速、遠隔医療・教育の普及、SDGの達成に繋げてゆきます。

L.1700 identifies the "affordability-first" concept with best effort reliability (2016)
L. 110 specifies requirements of lightweight robust optical cables for direct surface intallation into remote areas at low cost (2017)
L. 163 identifies how to affordably and reliably install L.110 cables into remote/rural areas across difficult terrain (2018)

Sept. 10-13, 2018 President of GP Inc. gave a talk as a Panelist at ITU Telecom World 2018(Durban)
ITU Telecom World 2018(Durban) にて弊社が推進中の途上国への安価な光ケーブルソリューションについて展示し弊社代表がパネリスト として登壇しました

See an Interview Video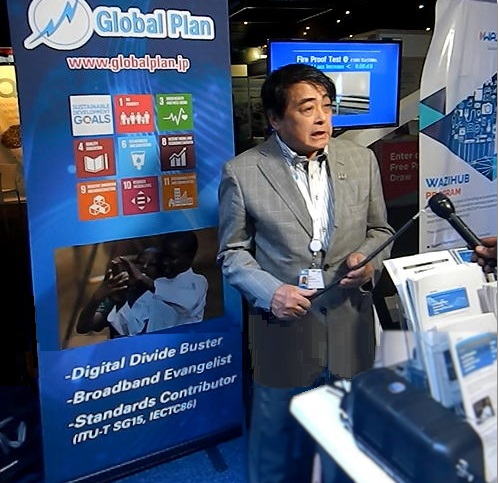 Aug. 28, 2018 Haruo Okamura presented an invited paper on the Optical fiber technol. for closing the digital divide at ESCAP Asia-Pacific Information Superhighway (AP-IS) Steering Committee.

UNESCAP会議(国連傘下)で弊社が推進中の途上国への安価な光ケーブルソリューションについて、弊社代表が講演しました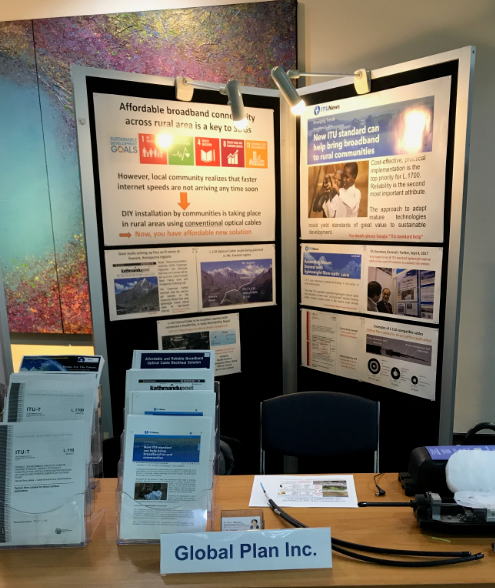 Global Plan Exhibition @ UNESCAP Asia-Pacific Information Superhighway Steering Committee 27-29 August2018, Bangkok Unied Nations

2018, 5/02 Broadband Communities Summit 2018 see more

弊社が推進中の途上国への安価な光ケーブルソリューションの米国郊外のブロードバンド化への適用性につき弊社代表が講演しました>.

2018年4/10-15 The route survy for 12 km optical cable was conducted in lDullu Minisipality, Dailekh District in the Bheri Zone of western-central Nepal under an APT project grant together with KDDI Foundation, ICT4D in Nepal and Opt. Cable manufactuerer.

ネパール山岳遠隔地域の地方政府、病院、地域健康センタを弊社提案の超安価なソリューションでブロードバンド接続するPJの現地調査は地元の歓迎を受けて成功裡に終了しました。

2017 12/13 Route survay was conducted from a Helicopter for 36-km L.110 Optical-Cable deployment in collaboration with local communities: ITU-T Recommendation L.110 edited by H. Okamura was published in August 2017. 

エベレストベースキャンプまでのトレッキングルート36kmを超安価なソリューションでブロードバンド接続するPJの現地調査を成功裡に終了しました。 

<![if />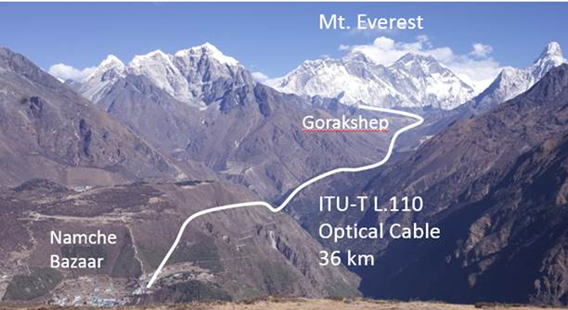 <![endif]>

2017 09/28 ITU Secretary General Mr. Houlin Zhao visited the Global Plan Stand at ITU Telecom 2017 appreciating Low-Cost DIY Optica Cable Solution and its ITU standard L.110 and L.1700 as the 1st International Standard toward closing the digital divide.

<![if />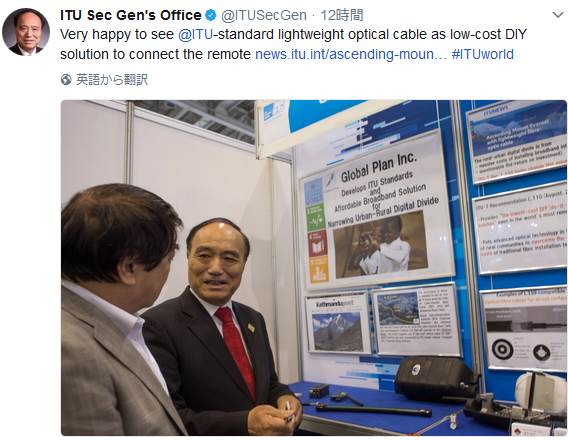 <![endif]>